In Chennai, Dr.Patta Radhakrishna is a highly renowned surgical Gastroenterology Doctor, Gastroenterologist Doctor and Laparoscopic Surgeon.
At present, he is working as a full time senior consultant in surgical Gastroenterology and
Laparoscopic Surgery
at Apollo Hospitals (main), Chennai. Patients can get his private consultation in the evening by appointment at Chennai Breast center, MRC Nagar, Chennai.
He completed his graduation in the year 1986 from a very prestigious medical institute, Jawaharlal Institute of Post-graduate Medical Institute and Research (JIPMER), Pondicherry. He obtained MS (general surgery) degree in 1989 and subsequently done his initial surgical training from Stanley Medical College. He obtained his super-specialty degree in 1992 in the very fist attempt under the chairmanship of Prof. N. Rangabashyam a pioneer surgical
Gastroenterologist
after joining M CH (Surgical Gastroenterology) course at Madras Medical College. At that time, Madras Medical College was the only center present in India who used to offer MCh in Surgical Gastroenterology. During his tenure at Department of Surgical Gastroenterology and Proctology in Madras Medical College, he got the opportunity to take care of the patients with complex GI surgical problems. There, he got his first experience in assisting and performing some of the complex surgeries of esophageal, gastric, colorectal, hepatobiliary and pancreatic. In addition to this, he got to know about diagnostic and therapeutic endoscopic works. The entire experience worked as a ground for him and his career in GI surgery took off from there. During his stay there, he wrote his thesis on 'corrosive injuries of the esophagus and stomach.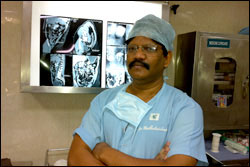 He worked as a senior resident under Prof. Samiran Nundy at the Department of Gastro-intestinal Surgery and Liver Transplantation at the prestigious All India Institute of Medical Sciences (AIIMS), New Delhi. GI Surgery unit at AIIMS is known to be the most renowned GI unit present in India in which patients not only from all over India but also from neighboring countries like Bangladesh, Sri Lanka, Nepal, Pakistan and Afghanistan are treated. In this unit, his responsibility was to handle specialized treatments and take care of patients with GI bleeding. He used to see patients with portal hypertension, surgery for ulcerative colitis, surgery for surgical obstructive jaundice etc. This unit has its own Indian management protocols that are followed across the country and this enable a very systematic approach in treating the conditions. Coming to liver transplantation, Dr. Radhakrishna had extensive experience and he got the opportunity to be involved in the first ever liver transplant done in AIIMS in 1995. At various conferences, he has presented numerous papers on behalf of the unit. During his stay in AIIMS, he had also given one-month training in laparoscopic surgery under Dr. Pradeep Choubey at the Ganga Ram Hospital in New Delhi.
Post his completion of training in AIIMS; he joined Sri Venkateswara Institute of Medical Sciences (SVIMS), Tirupati as a consultant GI Surgeon. In addition to 540 major surgeries he performed, in his two year period in Tirupati, he increased this count to over 2000 upper GI endoscopies and 400 colonoscopies successfully. He initiated the laparoscopic work in the unit in 1996 and was an expert in the establishment of GI surgical unit there.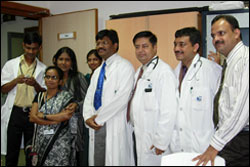 He later on worked as a consultant GI surgeon at Nizam's Institute of Medical Sciences (NIMS) a premier medical institution in Hyderabad. He worked there for about two years before going abroad. There in the institute, he was active in academic teaching and handled the structured audit of the unit. He also organized a bi monthly organ specific CME (Continuing Medical Education) successfully.
He got invitation from the Govt. of Bangladesh to work as a senior consultant in GI Surgery at Z. H. Sikder Women's Medical College Hospital, Dhaka where he worked for 3 years. There, he established a GI Surgical unit, which is running successfully even today.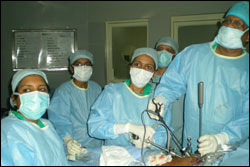 In 2003, he started working as a senior consultant and head in GI surgery at Apollo Hospitals, Colombo, Sri Lanka. In Sri Lanka, Apollo Hospital Colombo is the largest multi specialty medical care provider. He worked there for 3 years before joining Apollo Hospitals, Chennai. In Chennai Apollo he is one of the most successful GI and Laparoscopic surgeons.